about PIANC-Japan

Establishment and Current Status of PIANC-Japan

Purposes of the Activities of PIANC-Japan


General Assembly, Commission

Activities of WGs

Organization and Personnel


Contact Address
Establishment and Current Status of PIANC-Japan
In 1952, Japan's Ministry of Transport (currently, the Ministry of Land, Infrastructure, Transport and Tourism (MLIT)) joined PIANC as a governmental member based on a Cabinet Resolution passed in that year. Japan actively participates in meetings and research activities of PIANC headquarters. In 1965, the Fisheries Agency also became a governmental member.
Since participating in the 18th International Navigation Congress, which was held in Rome in 1953, Japan has dispatched representatives to all of the meetings of International Navigation Congress held every four years, as well as Annual General Assemblies, and has also dispatched representatives to participate in the Working Groups of Technical Commissions and other activities. Japan is positively engaged in support activities, such as cooperation in collecting data required to Japan for the these activities and providing financial support for commission's activities.
Japan is the most active PIANC member in the Asian region, having hosted the Osaka meeting of the International Navigation Congress in 1990 and the PIANC Annual General Assembly (AGA) in Fukuoka in 2004, among other activities. In particular, at the 1990 International Navigation Congress in Osaka, His Imperial Highness the Crown Prince of Japan, as the Honorary President of the Congress, presented a lecture on the "Thames River as a Transportation Waterway."
Record of Meetings in Japan
Important PIANC meetings held in Japan include:

Permanent International Committee Assembly (1978, Tokyo; now called Annual General Assembly)
27th International Navigation Congress (1990, Osaka)
2004 Annual General Assembly (2004, Fukuoka)
2010 PIANC 125th Anniversary Celebration in Asia (2010, Nagoya)
At the 27th International Navigation Congress, His Imperial Highness the Crown Prince of Japan, as the Honorary President of the Congress, presented a lecture on the "Thames River as a Transportation Waterway."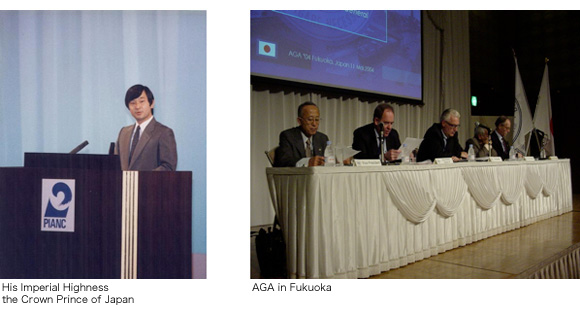 At the PIANC 125th Anniversary Celebration in Asia, His Imperial Highness the Crown Prince of Japan delivered an opening address.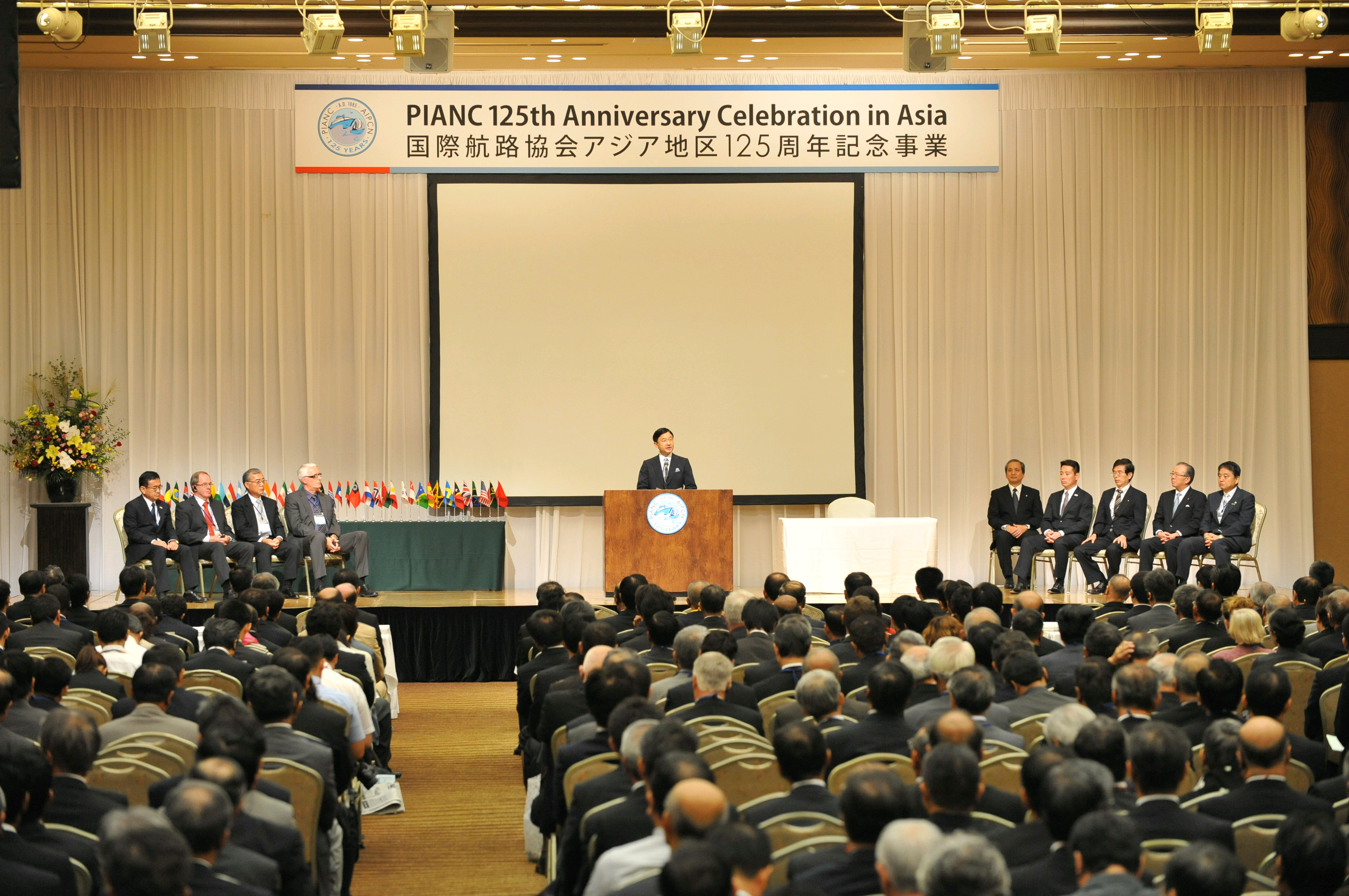 Purposes of the Activities of PIANC-Japan
PIANC-Japan is the official name of a Japanese section of PIANC. The purposes of its activities are as follows.
(1)
To achieve the purposes laid out in the Rules and Regulations of PIANC (Article 3a).
(Art. 3a , RULES AND REGULATIONS of PIANC)
PIANC concentrates, on fulfilling its mission by:

enhancing the navigational function of waterways, ports and coastal zones achieving sustainable development through balancing the environment and economic interests;
improving the planning, design, construction, management, operation and maintenance of inland waterways and both sea- and inland ports, their facilities and their connections to the hinterland;
promoting the optimum use of economic resources for the construction and operation of ports and waterways infrastructure;
communicating, in an effective way, the advantages of waterborne transport;
enhancing service to all members;
promoting exchange of technical and practical experience;
co-operating with sister associations.

(2)
To cooperate in the activities of PIANC in Japan.
(3)
To heighten interest in the purposes and activities of PIANC in Japan.
General Assembly, Commission
International Navigation Congress (Congress)
Annual General Assembly (AGA)
Council
Executive Committee (ExCom)
Commissions
Inland Navigation Commission (InCom)
Maritime Navigation Commission (MarCom)
Environmental Commission (EnviCom)
Recreational Navigation Commission (RecCom)
International Cooperation Commission (CoCom)
Finance Commission (FinCom)
Editing Commission (EdCom)
Promotion Commission (ProCom)
Young Professional Commission (YPCom)
Activities with Japanese members are as follow;

InCom
(as of April 2012)
Active WG

WG №

WG Name

Japanese members

Remarks

17

Handling and treatment of contaminated dredged material from inland waterways 'CDM' - Volume 1

Yashushi Hosokawa

B89 (1996)
B98 (1998)

19

Ship collisions due to the presence of bridges
Satoru Shiraisi
PHRI
B107 (2001)

21

Economic aspects of inland waterways
Susumu Naruse
OCDI
M119 (2005)

22

Safety of inland waterway vessels
Kinzou Inoue
Kobe University of Mercantile Marine
Started in Nov. 1996

26

Design of movable weirs and strom barriers
Tsuyoshi Nagao
MLIT
M122 (2006)



30

English Inventory of Inspection and Repair Techniques of Navigation Structures (Steel, Concrete, Masonry and Timber) both Underwater and In-the-Day
Hiroshi Yokota
Hokkaido University

Started in 2006



128

Alternative Bank Protection Methods

Yoshiyuki Nakamura
PARI

Started in 2007
Suspended
°

129

Waterway Infrastructure Asset Maintenance Management
Hiroshi Yokota
Hokkaido University
Started in 2007
°

151

Impacts of seismic loads and ship impacts on lock gates
Takahiro Sugano
(PARI)
Started in 2010
154
Miter Gate Design and Operation
Under Preparation
155
Ship Behavior in Locks and Lock Approaches
Under Preparation
156
E-Navigation for Inland Waterways
Under Preparation
° shows active WGs



MarCom WG
(as of April 2012)
Active WG


WG

№

Name

Japanese member




Remarks

2
The stability of rubble mound breakwaters in deeper water

Yashushi Endo
Tetrapod Co, Ltd

B48 (1985)


4

Dangerous goods in ports
shigeo Nakayama
MOT

B49 (1985)


7

Dimensions and layouts of channels, including two-way channels
Tomoo Ishiwata
PHRI
Merged with Wg 30

9

Development of modern marine terminals
Shigeo Toyota
Masanori Sakurai
MOT
B56 (1987)

12

Analysis of rubble mound breakwaters
Yashushi Endo
Tetrapod Co, Ltd
B78/79 (1992)

18

Planning of fishing ports
Tatsuma Fukuti
Fishery Consultants
B97 (1998)

20

Capacity of ship maneuvering simulation models for approach channels and fairways in harbours
Ikuei Okuyama
Tottori University
B77 (1972)

24

criteria for moored ships in harbours
- A practical guide
Shigeru Ueda
PHRI
B88 (1995)

27

Artificial islands
Akira Kaneko
Tokyo University
Suspended

28

Vertical faced breakwaters
Katsutoshi Tanimoto
Saitama Univ.
Tadashi Kiyomiy
Waseda Univ.
B113 (2003)

29

Recommendations for by-pass systems for harbours on sandy coasts
Kazumasa Kato
PHRI
Suspended

30

Approach channels - Preliminary guidelines
Shinji Kataoka
PHRI
PIANC-IAPH Joint B87 (1995)

31

Life cycle management of port structures
Kazuaki Zen
Nakabo Tech
B99 (1998)

32

Port faciliteis for high-speed ferries
Masashi Yano
Japan Port Consultant
Suspended

33

Guidelines for the design of fender systems
Shigeru Ueda
Tottori Univ.
B110 (2002)

34

Seismic design guidelines for port structures
Susumu Iai
PARI
B106 (2001)

35

Dangerous cargoes in ports
Tetsuro Ichinose
Yokohama City
B105 (2000)

36

Catalog of prefabricated elements
Minoru Hanzawa
Tetrapod Co, Ltd
B121 (2005)

39

Monitoring of breakwaters
Shigeo Takahashi
PARI
Started in 1997

40

Guidelines for the design of berm breakwaters
Shigeo Takahashi
PARI
B113 (2003)

41

High-speed ferries at sea and port approaches
Tetsuya Hiraishi
PARI
B114 (2003)

42

Implementation manual for life cycle management of port structure
Hidenori Hamada
Mituyasu Iwanami
PARI
Report No.103 (2008)

43

Minimizing hargor siltation
Yasuyuki Nakagawa
PARI
Report No.102 (2008)

44

Accelerated low water corrosion
Toru Yamji
PARI
M121 (2005)

45

Post earthquake action
Takahiro Sugano
Yasuji Ichii
PARI
Started in 2003
°

47

Criteria for the selection of breakwater types and their optimum damage risk level
Kenichiro Shimosako
PARI
Started in 2003
°

49

Horizontal and vertical dimensions of approach navigation channel
Kohei Ohtsu
Tokyo University of Marine Seience and Technology
Started in 2005



50

General principles for the design of maritime structures
Tsuyoshi Nagao
PARI
Started in 2005
°

52

Criteria for the (un-)loading of container ships

Haruo Yoneyama
Kanto Regional Development Agency

Started in 2005
°

53

Design and construction of maritime structures in Tsunami prone areas
Shigeo Takahashi
Takashi Tomita
Taro Arikawa
PARI
Started in 2005
Appendix to the report on Tsunami disaster
Yoshiaki Higuchi
PHAJ
Started in 2011
°

54

Use of hydro/meteo information to optimize safe port acess
Hiroyasu Kawai
PARI
Started in 2006
°

145

Berthing Velocities and Fender Design
Shigeru Ueda
Idea Co,Ltd.
Haruyoshi Yamase
Bridgestone Co,Ltd
Narukawa Kazuya
Sumitomo Rubber Co,Ltd.
Started in 2010

146

floating transshipment terminals for solid bulk cargoes
Under Preparation

147

Guidelines for facilitation and integration among recreational, fishery and commercial navigation
Under Preparation

152

Guidelines for cruise terminal
Under Preparation

153

Recommendation for the design of marine oil terminals
Takahiro Sugano
PARI
Started in 2010
°

160

Overview of Design Codes and Guideline for Harbour Structures
Hideo Matsumoto
MLIT
Started in 2012

161

Interaction Between Offshore Farms and Maritime Navigation
Under Praparation

162

Recommendations for increases durability and service life of marine concrete infrastructures
Under Praparation
° shows active WGs



EnviCom WG
(as of April 2012)
Active WG


WG

№

Name

Japanese member




Remarks

1
Management of aquatic disposal of dredged material
Hideo Kato
PHRI
B100 (1998)
2
Bird habitat management in ports and waterways
Yasushi Hosokawa
MLIT
M120 (2005)
3
Glossary of environmental terms and terminology as related to PIANC activities
Takeaki Okuda
Osaka City
B104 (2000)
4
Environmental management framework for ports and related industries
Kenichi Fujimori
B102 (1999)
5
Environmental guidelines for aquatic, nearshore, and upland confined disposal facilities (CDF's) for contaminated dredged material
Yosuke Miyaji
SCOPE
B110 (2002)
7
Ecological and engineering guidelines for wetlands restoration in relation to the development, operation and maintenance of navigation infrastructure
Keita Furukawa
MLIT
B114 (2003)
8
Biological assessment guidance for dredged material
Akahiro Kuwae
PARI
M122 (2006)
10
Environmental risk assessment in dredging and dredged material disposal
Suzuki Takeshi
MLIT
M125 (2006)
11
Management, reclamation of dredged material and the transformation of existing confined disposal facilities
Yoshiaki Kikuti
Youichi Watabe
PARI
B109 (2009)
13
Best management practices applied to dredging and dredged material disposal projects for the protection of the environment
Makoto Fujino
JDREA
Started in 2004
14
Dredged material beneficial use-options and constraints
Yasushi Hosokawa
Keita Furukawa
MLIT
Started in 2004
15
Dredging and Port Construction Around Coral Reefs
Shuichi Yamamoto
Ecoh Co,Ltd
Report 108
(2012)
16
Management of ports and waterways for fish and shellfish habitat
Asahiro Kuwae
PARI
tarted in 2007
°
143
Screening Evaluation of Environmental Effects of Navigation and Infrastructure Projects
Tomoya Okada
MLIT
°
150
A practical guide for sustainable seaport (Green port)
Tetsuya Shiraishi
PARI
Started in 2010
°
PTF
(Permanent Task force) Working with Nature - Climate Change and Navigation
Takeshi Suzuki
Keita Furukawa
MLIT
Started in 2009
° shows active WGs

RecCom
(as of April 2012)
Active WG


WG

№

Name

Japanese member




Remarks

9
Regeneraion of harbour areas for sport & pleasure navigation use
Toshitugu Sako
Tokai University
Started in 1995
10
Mooring system for recreational crafts
Takashi Hasumi
Watanabe Gumi Co,Ltd
B111 (2002)
14
Disability access guideline of recreational boating facilities
Tateo Kondo
Nihon University
B117 (2004)
15
The use of alternative materials in marina construction
Akio Yamda
PARI
Report 105 (2009)
°
131
Catalogue of Prefabricated Marina Elements
Chihiro Takaiwa
JMBA
Started 2007
° shows active WGs
Organization and Personnel
Regular General Assembly meeting of the Board of Directors are held in June of each year.
Meeting of the Managing Committee and Planning Subcommittee are held from time to time, as necessary.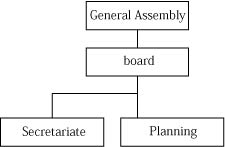 Board
President

Yutaka
Sunohara

Japanese Section of the International Association of Port and Harbor
(IAPH), Executive Advisor
Vice
President
Shigeo
Takahashi

President, Port and Airport Research Institute (PARI)
Contact Address
URBANNET KOJIMACHI BLDG.
1-6-2 KOJIMCHI, CHIYODA-KU
TOKYO, 102-0083 JAPAN

PIANC-Japan
Secretary General
Dr. YAGYU Tadahiko
Tel: +81-3-5226-0357
FAX: +81-3-5226-0357
Email:info@pianc-ofg